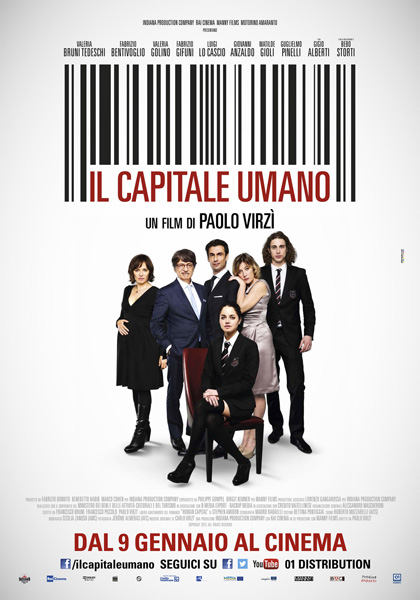 Formalmente ineccepibile, va detto; esteticamente raffinato, aggiungo; ma troppo lento se non addirittura noioso.
E poi, c'è quell'aria di prevedibilità che sembra voler accontentare molti palati senza però arrivare a un dunque.
Insomma, con questo
Capitale Umano
il cinema italico si conferma decisamente avanti sul piano formale, ma totalmente arido su quello dei contenuti.
Abbiamo, cioè, ottimi registi (più avanti rispetto ai mediocri attori che li aiutano), ma mancano storie decenti, buone sceneggiature e produttori all'altezza.
A me dispiace che queste carenze così palesi sfuggano alla critica nostrana sempre e invece incline al Fazio's style, fatto di solluccherosi ammiccamenti, di moralismi a buon mercato, di un'idea di cultura che nulla ha a che vedere con la libertà di pensiero e di pensare.
Virzì mi aveva deliziato con
Caterina va in città
, ma poi si è perso per strada.
Sorrentino aveva dimostrato un eccellente percorso artistico ricco di progressi, per poi fermarsi al
Divo
, bearsi dentro l'inutile
This must be the place
, suicidarsi dentro l'orribile
Grande bellezza
.
È come se la sindrome latina dell'autocelebrarsi ad ogni costo abbia colpito simultaneamente due dei nostri talenti migliori. Speriamo che almeno il Vicari regga all'impatto del dopo
Diaz
.
Due note buttate là: spiegatemi chi è quello sciagurato che ha voluto premiare più volte il traballante fonico in presa diretta; Gifuni e Bentivoglio molto bravi, al contrario della monotematica Bruni Tedeschi.