La profonda bellezza della musica regala spesso sospiri senza fine, specie se d'un tratto ti viene regalato un piccolo gioiello "commerciale" che porta con sé la storia di un periodo tra i più fecondi e strutturati della biografia discografica dei King Crimson: The Road to Red.
In molti considerano Red un'opera minore, dimostrando perlomeno un'ignoranza oggettivamente storica, visto che i nostri presentarono prima dal vivo i pezzi che finiranno in Red, spesso con formule musicali e testuali ben diverse dal risultato finale.
Anzi, è proprio questo spontaneo e disinvolto percorso di continui ritocchi esteticotecnici che consente a Red di essere forse il gioiello più strutturato dei tre Lp del periodo più intenso dei KC (quello con la formazione Fripp, Wetton, Bruford, che nel tempo perse per strada Muir, Cross, e che riuscì a far incontrare rock, hard rock, jazz, indie e qualcosa di grunge, ben prima che qualcun altro iniziasse a far finta di inventarlo con nuove forme).
Anzi, è interessante constatare quanto alcuni momenti sonori decisamente più corposi proposti con Larks' Tongues in Aspic, diventino sempre più asciutti e risoluti, quasi arroganti nella loro veemenza.
Questo Road to Red, insomma, è un'opera che racconta in maniera nitida e precisa quanto già era stato vagamente accennato dal già pregevole tetracofanetto The Great Deceiver, cui però aggiunge numerose chicche per appassionati ma anche rigorosi strumenti di studio per chi crede che la musica dei KC non sia solo quanto si ascolta al momento, ma quanto viene indicato.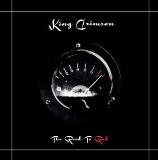 A differenza dell'altro supercofanetto dedicato alle "lingue di allodola in aspic", questo su Red si preoccupa di evidenziare letteralmente le intuizioni a venire, il progresso (ma non progressive; troppo riduttivo) della musica di Robert Fripp, che proprio in Red ucciderà definitivamente la chitarra acustica (di cui era grande maestro) per poi riproporla solo nell'esperienza dei Crafty Guitarists due lustri più in là.
Tra i memorabilia, anastatiche di qualche scaletta appuntata su foglietti d'albergo, le quasi-parole di Starless buttate su un foglietto, le copertine di USA e di Red... Qui trovate il dettaglio di tutti i 24 tra cd, dvd, blue-ray contenuti. Il resto sta nel vostro portafogli.
Ah, dimenticavo: sapete perché il tachimetro della copertina segna una mezza tacca oltre il 7?